Facebook is stepping into the world of dating apps with a new service called Facebook Dating. Now users from all around the globe can use a free platform to find a perfect romantic partner. Does it sound good to you? Then read the honest Facebook Dating review and find out how it compares to other online dating sites.
How Does Facebook Dating Work?
While Facebook is a social media site itself, the management decided to separate the community of singles seeking relationships. What is Facebook.com/Dating made for? "Find love through what you like" is the main idea of the brand new launch. The algorithm searches people for your "suggested" list through the groups you are in and the events you go to.
A simple Tinder-like swiping setup makes it quick and easy to review many profiles. There is a Heart button to like a profile, and an X button to dislike. Tap the photo to view details about the user. The cool thing about this app is that you do not have to wait until a person likes you back to text them. FacebookDating allows each website member to reach out right away by leaving a comment under a nice profile.
You do not need to download another app to use the platform, as it is built into the Facebook app that you likely already have. It may concern some of you: "Does it mean I am not anonymous?" Do not worry about it. Your Facebook Dating account is separate from the main profile. Until you want it, matches will not see your last name or access the Facebook profile. You also have a right to choose whether to see your friends or not.
Who is Facebook Dating good for? "This is going to be for building real, long-term relationships, not just hookups," announced Mark Zuckerberg, the CEO of Facebook, during the annual developer conference in 2018. People do not come here for erotic content. Yet still, the audience is diverse. You can form any type of connection here.
The platform claims there are more than 1.5 billion quality matches that actively use the platform around the world. Frankly speaking, the number might be an exaggeration, but you definitely will find love if you look hard enough.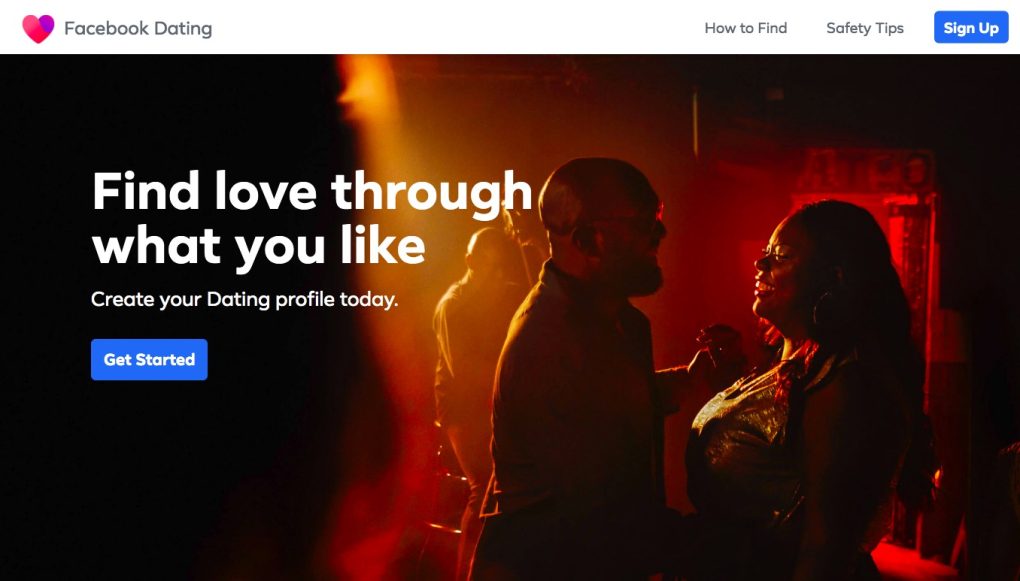 How to Create a Facebook Dating Account?
If you already have a Facebook app on your phone, you do not need to download another one. If not, download the app and log in to your active account. Unfortunately, there's no Web version of the website, it is only available in the Android or iPhone apps. Facebook Dating reviews say the display is boring. Yet, we think it makes the app very easy to use, no matter how good you are with technology.
Before you get started, turn on Location Services for Facebook. Look up how to do it here. The Facebook Dating log in process starts from your original Facebook profile. Tap the three-line menu in the corner of the screen and choose "Dating". Later in the review, you will find out how to fill in your account.
Before creating an account, make sure you meet the following demands:
You are at least 18 years old.
You have a Facebook account that is at least 30 days old.
You live in a country where Facebook Dating is available. Check if it works in your country here.
Main Features of FacebookDating
Facebook Dating is a unique site to seek relationships. It shares the fundamental features with other traditional hookup sites. But there are several peculiarities that users adore mentioning in their Facebook.com/Dating reviews.
Secret Crushes
Second Look
Share Your Instagram Activity
On Pause
Match Anywhere
Events and Groups in Common
Secret Crushes
Secret Crush feature adds a pinch of mystery and excitement to your user experience. Do you secretly have a crush on a friend but are afraid to make the first move? With the platform, you do not face the awkward feeling of a one-sided romantic interest.
Add up to nine of your Facebook or Instagram followers to the "Secret Crush" list. A Facebook Dating member will receive a notification about an anonymous admirer and then create their own list. If your interest is mutual, they will uncover your real. Then you are ready to start a conversation.
Second Look
In the flow of beautiful Facebook Dating profiles, you accidentally swipe left on a person you like. Here comes the advantage of this app over any other hookup site. There's a feature called Second look to review accounts you previously disliked. Did you change your mind or unliked someone by mistake? Give a match a second chance.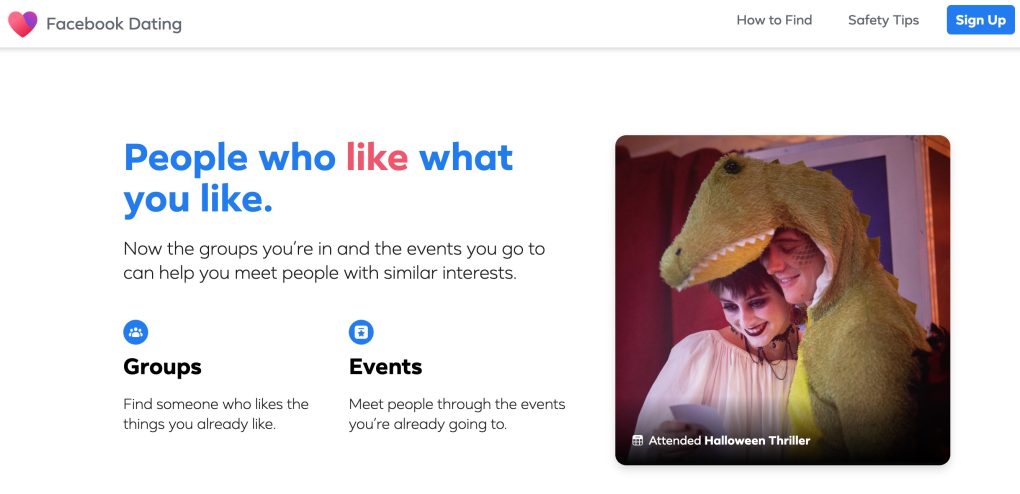 Share Your Instagram Activity
Facebook Dating integrates with Instagram and other brand services. It allows connecting your profile with the Instagram activity. Let the matches see a little more of your authentic personality by sharing Instagram posts and stories on the Facebook Dating dating site. Keep in mind that if you choose to share your Instagram posts to your profile, your matches, and suggested members can review these posts, even if your Instagram profile is private.
On Pause
Do you feel overwhelmed with social media? All of us need a break from the Internet sometimes. This feature puts your activity on pause without deactivating your account. You will no longer see suggested profiles and others will not see you. In a personal review of Facebook Dating, one of the users pointed out a nice detail. You still can communicate with already existing matches and keep in contact with the chosen ones.
Match Anywhere
FacebookDating tracks your approximate location to find local singles. Users can filter results based on location, the number of children, religion, age, or height, and match with other users within a 100 km range.
Want to explore matches outside of your original place? This feature widens the selection. In the settings of your profile, you choose to set two additional locations to browse new members. You can change each location once per week or remove one by tapping a trash bin. Note: at this point, the feature is unavailable for some of the profiles right now.
Events and Groups in Common
Similar interests make people closer. Facebook Dating dating website analyzes your activity on the service. It forms a suggestions list with people who share groups and events with you.
What Is The Sign Up Process?
Once you have found the Facebook Dating site in the Facebook app, you can form a profile. To do so, follow these steps:
Tap "Get started" and fill in a questionnaire. There is an option to skip some questions.
Review your answers and tap "Confirm".
Add details to complete your profile. There are two variants: to automatically use information and pictures from your Facebook Profile; or to add details and pictures manually. You can add up to 12 photos.
It is optional to provide some extra info. If you want it, you can specify your Hometown, Job Title, Company, High School, College, and Grad School.
The app is free so there is no need to buy a Facebook Dating subscription.
After some time the information might become irrelevant. You can always update your profile. There are some answers you will not be able to change, like a real name and age.
If you want to stop using Facebook Dating website, you can delete your account. To do so, go to the settings and choose the option "Delete profile" under the account. Keep in mind that after deleting it, you lose all of your questionnaire answers, matches, conversations, and other activities.
Facebook Dating: Pros and Cons
Pros:
Completely free
Intuitive interface that everyone can use
No need to download a new app if you already have a Facebook account
Integration with Instagram and Facebook
Detailed profile that is easy to build
Cons:
Plain design
No desktop version of the app
Smaller user base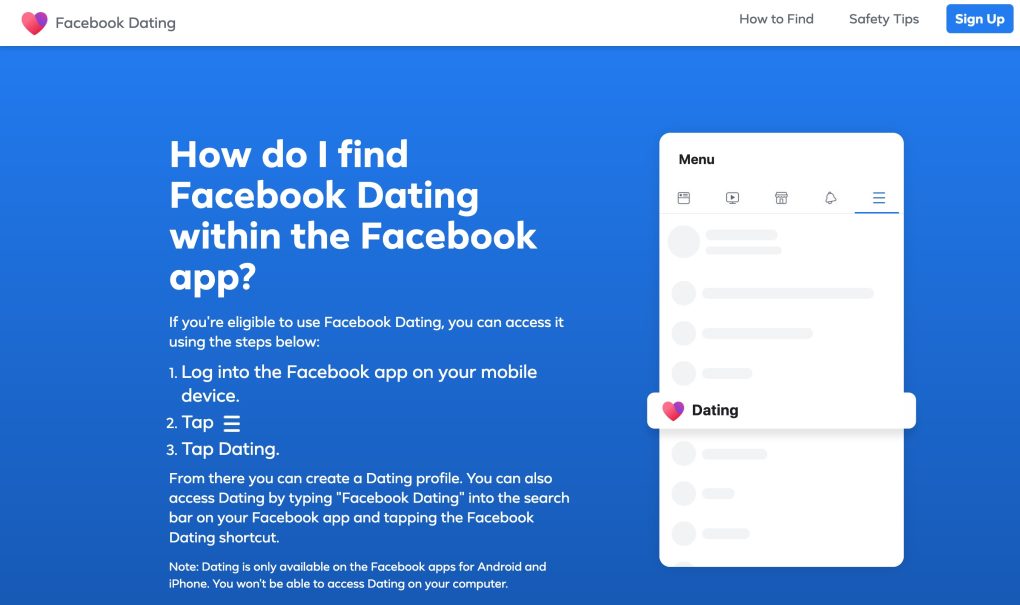 Is Facebook Dating Legit?
You know an app is not a scam when the developer is a trustworthy brand that has been around for almost two decades. Over the last 3 years of existence, the app got many reviews from real Facebook Dating users.
Developers carefully worked on a safety aspect. There is a verification process through Facebook. Moderators block and remove fake users or those who do not follow the Community Standards.
There are also further steps to maximize the safety level. Users are restricted from making video calls and sending pictures. One would say it is a flop, but the true purpose of it is to protect you from scammers. So you better learn a couple of romantic phrases to express your feeling with words only.
The support center is open to receiving feedback. You are open to making contact to help you or leaving a Facebook.com/Dating review.
What is a Facebook Dating Price?
Facebook Dating costs zero dollars. It doesn't require additional charges.
It might sound sketchy but let us explain. The truth about Facebook Dating is that originally it was set as a social media experiment. There are no paid plans because the innovation is not expected to bring money.
The brand is working on growing its userbase on this relatively new project. Completely free status is pretty alluring, right? However, we can not claim it will stay free forever, so you better use the opportunity right now.
Total Facebook Dating Rating
We have examined the features Facebook Dating app has to offer, its strengths and weaknesses, and calculated the overall FacebookDating rating. We rated it a 7.5 out of 10. The app works pretty well but we can't say it is the best dating service ever created.
| Category | Score |
| --- | --- |
| Quality Matches | 5.0/10.0 |
| Features | 6.5/10.0 |
| Ease of Use | 9.5/10.0 |
| Support | 7.0/10.0 |
| Cost | 10.0/10.0 |
| Overall | 7.5/10.0 |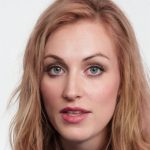 Education: MS in Sexology
Expertise: Sex education, relationships, dating
Fenella Kirsty can look back on eight years of professional experience as a trained social pedagogue, consultant, and yoga teacher. With a lot of heart and soul, she supports clients in overcoming speechlessness and shame, affirming their expressing needs, and accompanying them on the way to breaking taboos. She is an open-minded person whose heart is full of kindness and desire to help others.